Cold weather hits lobster supplies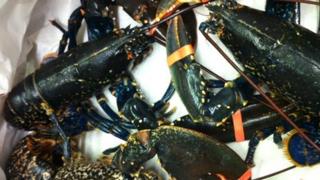 Prolonged cold weather has caused a shortage of Scottish lobster supplies, according to an industry body.
The Scottish Creel Fishermen's Federation said landings had fallen by as much as 90% off the east coast of Scotland, forcing a sharp rise in wholesale prices.
Langoustine catches were also reported to be as much as 70% down in the Clyde fisheries area.
The federation said cold weather had forced lobsters further out to sea.
It added that poor weather conditions off the east coast, from Peterhead to Eyemouth, had damaged creels, forcing fishermen to spend more time onshore repairing their equipment.
Federation chairman Alistair Sinclair told the BBC Scotland news website: "Lobster is as rare as hens' teeth at the moment.
"The east coast has experienced a winter of turbulence and a lot of damage has been caused by the winds.
"The prolonged cold snap has just set everything back."
Mr Sinclair added: "We are waiting with bated breath for the weather to improve soon."
The federation, which has about 500 members, estimates overall creel fishing in Scotland to be worth about £39m a year.
Seafood restaurant Gamba Glasgow has removed lobster from its menu after facing a 72.4% price hike in the past three weeks.
In that time, Scottish lobster has risen in price from about £15 a kilo to an average of £25.
Gamba Glasgow owner and head chef Derek Marshall explained: "Our Scottish lobster thermidor dish is one of the most popular items on our menu.
"A single portion is a half kilo and with the shortage and price hike we weren't willing to ask our customers to pay the 72% increase.
"We also couldn't guarantee that we would have lobster as our supplier has been struggling for weeks, with any Scottish lobster being shipped off to Europe."
Fish supplier Andy Bell, owner of The Fish People, said: "The water is abnormally cold for this time of year and our fisherman have been struggling to catch any lobster from their boats as the lobster are hibernating and further out to sea.
"This limited availability and demand has driven the price per kilo up and any lobsters that are caught are being sold for a high price."