Scottish Coal cuts 590 jobs at mines in Ayrshire, Lanarkshire and Fife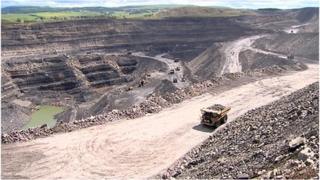 Almost 600 people have been made redundant, following the collapse of one of Scotland's biggest coal-mining companies.
Directors of Scottish Coal have put the firm into administration.
Its six open cast mines in East Ayrshire, South Lanarkshire and Fife have stopped production.
Falling coal prices and rising operational costs have been blamed for causing losses and "significant cash flow pressures".
Administrators have retained 142 staff while they consider what to do with the company's assets.
Scottish Coal is part of the Scottish Resources Group which announced last month that 450 staff were being put on notice of redundancy.
A fellow subsidiary company, Castlebridge Plant Limited (CPL), has also been placed in administration.
Together with CPL, Scottish Coal employed 732 people.
Announcing a total of 590 redundancies, administrators said that despite significant efforts in recent months, the company had been unable to secure the level of investment required to enable the business to continue.
'Very disappointing'
Joint provisional liquidator, Blair Nimmo, of KPMG, said: "In light of Scottish Coal's poor trading and financial position, we have had to cease trading with immediate effect.
"It is extremely regrettable that we have had to make so many redundancies but have been left with no other option.
"We would like to thank staff for their co-operation through this difficult process. We will be working with the employees and the relevant government agencies to ensure that the full range of support is available to all those affected."
The administrators will now look to secure the sale of certain sites as well as the company's key assets in the coming weeks.
Mr Nimmo added: "It is still possible that mining operations will continue and offer future employment prospects for at least some of the people who have lost their jobs today."
Energy Minister Fergus Ewing described the job losses as "very disappointing".
He added: "We have been working closely with the company and the coal sector over the past year, and have sought to provide all support that is within our power to do.
"Our efforts are directed towards the objective of seeking to continue the mining operations and the preservation of the jobs in Scotland and ensuring the responsible restoration of sites."
'Devastating blow'
Mr Ewing said the Scottish government would work with the administrators and "do everything that can be practically done, in order to secure the continued operations of the SRG business into the future on a sustainable basis".
He said local response teams would also provide tailored employment help and support to those affected.
Labour's Shadow Energy Minister Tom Greatrex said: "This is a devastating blow for the workers and their families, and the way in which they were apparently informed is far from appropriate.
"Whilst the immediate priority must be the substantial job losses announced today, this will also have implications for our energy security.
"Today alone coal has produced almost 40% of the UK's electricity, leaving many questions about how this gap will be filled in by imported coal in the short term and replaced by other sources in coming years."