Tourism industry hit as visitor numbers fall in Scotland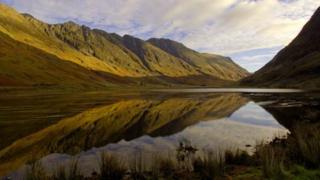 Visitor numbers in Scotland last year were down significantly on the previous year, according to official figures.
A survey by the Office for National Statistics (ONS) showed a decline of 5% in overseas visitors to Scotland in the year to December 2012.
Figures published by VisitScotland indicated domestic visitor numbers were down by 4.6%.
Tourism Minister Fergus Ewing said tourism had a "tough time" due to the Olympics and "miserable weather".
Total spending by overseas visitors was reported to be down by 6%. There was a 4.1% decline in spending by domestic visitors.
The largest decline was in the number of visitors from the rest of Europe, which fell by 7%.
The Scottish government has pointed to a growth in spending by visitors from North America, and a growth in numbers from there in the final quarter of 2012.
Mr Ewing said: "While 2012 was a very challenging time for our tourism economy with the Euro crisis deterring visitors from some of our most prominent markets, it is heartening to see a significant rise in expenditure from North America.
"There are signs of recovery in both the domestic and international markets in the last quarter of 2012, however it is clear the industry has had a tough time due to the Olympics and miserable weather conditions."
Ryder Cup
Mr Ewing pledged the Scottish government's support for the tourism industry.
He added: "We will continue to work with VisitScotland and our enterprise agencies to build on this during our Year of Natural Scotland in 2013 and on into 2014 which is set to put Scotland on the global stage as we not only welcome the world to our second year of Homecoming but Scotland also plays host to two of the biggest sporting events in the world - the 2014 Glasgow Commonwealth Games and the Ryder Cup."
The publication of the official figures coincided with research indicating that Scottish hotels have failed to share an upturn in occupancy rates elsewhere in the UK in the early months of 2013.
A survey by accountants BDO suggests that Scottish hotel occupancy in February rose by just 0.4%. The equivalent figure for England was 2.7%, with a 3.1% rise in Wales.