Tesco Bank raises PPI provision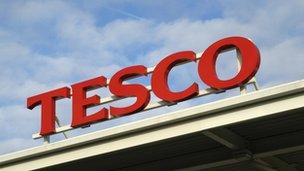 Tesco Bank has raised its provision for compensation claims relating to the mis-selling of payment protection insurance (PPI).
Tesco's Edinburgh-based financial arm set aside a further £85m in the second half of 2012, bringing the total charge for the year to £115m.
The cumulative charge now stands at £222m.
Tesco reported that the bank made a trading profit of £191m last year, a fall of 15.1% on 2011.
In its latest annual report, Tesco said: "During the second half of the year, in line with others in the banking industry, we started our full-scale proactive customer contact programme for customers who were sold payment protection insurance in the period prior to 2007.
"As a result of this activity and the contact received directly from customers relating to PPI, the Bank has made a further increase of £85m to the provision in the second half, taking the total charge for the year to £115m and the cumulative charge to £222m."
Tesco said it completed the final stage of separating its activities from partner RBS last May, with the transfer of 2.8 million credit card customers onto its own platforms.
It added: "This is a significant point in the bank's development, having built robust and scalable system infrastructure within a three-and-a-half-year period.
"Whilst this was just a few months longer than the original schedule, we also scaled back the marketing of our existing products to ensure we had sufficient capacity to complete the final stages of transition smoothly for our existing customers, holding back our overall performance as a result."
Tesco Bank offers savings products, personal loans, insurance policies and credit cards to about 6.5 million customers.
It plans to introduce a current account soon.
Related Internet Links
The BBC is not responsible for the content of external sites.