Rangers: Craig Whyte's expensive 'no'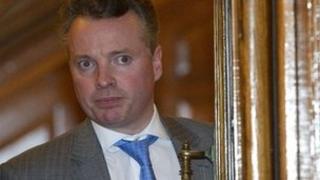 "Fraudulent", "fanciful" and "not at all convincing": just some of the recent court findings about Craig Whyte.
It reaches the "inescapable conclusion" that if he didn't lie to his business partners, then he was either "reckless" or "negligent" in failing to tell the truth.
We learned last week that the former Rangers chairman lost a court battle with Ticketus, in which he was judged to owe £17.7m.
This week, the whole judgement, written by one Master Marsh, has been made available. And for those interested in the Rangers saga, Ticketus LLP versus Craig Thomas Whyte is a fascinating legal read. For Mr CT Whyte, it's an uncomfortable one.
But then, it seems Craig Whyte isn't given to reading documents very carefully, at least if this legal encounter is any guide, so it may not bother him much.
Fast-track
To recap briefly, Ticketus supplied Craig Whyte with £27m with which to secure control of Rangers Football Club two years ago. It has since gone into administration and then into liquidation, while its assets (the club, training ground, brand and Ibrox stadium) have moved on to new ownership.
Following the company's collapse, Craig Whyte is being sued by Ticketus. That football finance firm's owner, Octopus Investments, has successfully argued it was not just any creditor of Rangers, but had personal and company guarantees from Craig Whyte himself.
That's why they were in court in February, leading to this judgement. Ticketus/Octopus was arguing for a fast-track procedure rather than a trial, pleading that the chances of Craig Whyte succeeding at trial are more fanciful than realistic.
That's the case they won, though Mr Whyte says he will appeal. He has to do so by next week.
Disqualified
This case hinges on whether he misled Ticketus into the financing deal, by failing to tell them that he had been disqualified as a company director for seven years.
The evidence is that Ticketus/Octopus sent him a 'director's questionnaire' asking him directly if he had been disqualified.
The answer came back the same day, in February 2011, with a firm 'no'. But it also had a covering note: "I have attached the questionnaire. I'm not near a scanner right now, so it's unsigned".
Indeed, he went on to argue that the form had been filled in by his solicitors. Last week's court ruling points out this was a bit odd, in that the solicitors were not in a position to sign off a document asking about his state of health or potential conflicts of interest, let alone his past disqualifications.
And as Mr Whyte had been specifically pointed to two questions about regulatory investigations and disqualification, it was stressed that these were important to answer. Moreover, the form said to answer all questions "truthfully and without omission", with the signature to be applied above a statement that the form was "true, complete and not misleading in any way".
Rough draft
Craig Whyte's defence goes on: the document was only a 'travelling' or rough draft. That is, when he said 'no' to the disqualification question, he meant it only in a rough sense.
And still further: Whyte argued it would be "absurd" to lie to Ticketus because they could easily check that he had been disqualified.
As the court ruling points out, there is no searchable public record of such a disqualification (you might well ask: 'why not?') so Ticketus had to rely on Craig Whyte telling the truth.
This wasn't a minor oversight. As BBC Scotland disclosed in October 2011, and as the court ruling spells out in detail, Craig Whyte was disqualified in 2000 for an unusually long time.
In 1998, he settled for £150,000 when accused of "misfeasance, breach of duty and negligence".
The same year, Whyte faced disqualification proceedings in which he was accused of "misapplication of the assets of two companies to the detriment of their creditors".
Pleadings
But there's more. This court ruling uncovers even more bizarre pleadings from the former Rangers chairman.
He argued that he didn't know he was dealing with a company called Ticketus, but only with Octopus. This is despite an email being sent to him, which, the ruling points out, appeared to have an attached document referring to Ticketus some 22 times.
He argued that Octopus/Ticketus had agreed to help him recover control of Rangers, in the event that it went into administration.
He says this was verbally agreed at a meeting. Octopus/Ticketus replied no such meeting took place. In turn, Whyte offered no evidence that it did.
Reputational harm
And then the astonishing bit - Craig Whyte sought to counter-sue on the grounds that:
"He had lost the opportunity to profit from control of Rangers";
"He had suffered foreseeable reputational harm";
"And the rescue and retention of control of Rangers would have enhanced his reputation".
Stripped down, that means he was claiming it was Ticketus, and not Craig Whyte or, indeed, HMRC, that was to blame for him losing control of the club.
And that cost him dear. "It is widely understood," argued Mr Whyte's lawyer, "that the acquisition of a football club is a 'vanity purchase' by wealthy businessmen" - and therefore the loss of reputation through the failure of that football club ought to be recoverable.
Most bizarre of all, he seems to think that by collapsing Rangers and then picking up the pieces, his reputation would have been higher.
Damages
Maybe the appeals process will find a judge who agrees with Craig Whyte. But the judge in this fast-tracking procedure dismissed the counter-suit, found no evidence that Craig Whyte had been denied evidence he said he needed from Ticketus, and didn't hold out much hope for Craig Whyte's chance of success.
While he awarded £17.7m to Ticketus, the ruling points out that the company is going after a whole lot more - £27.1m in claim and costs, and a further £18.2m in damages.
Even if Ticketus can identify and recover £17.7m from Craig Whyte's complex financial web, it seems that the company may be back for a lot more.