Burn Stewart Distillers bought by Distell for £160m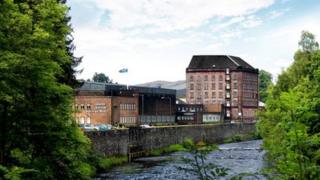 Whisky firm Burn Stewart Distillers has been bought by South African drinks giant Distell for £160m.
Distell has signed a binding agreement with Burn Stewart owners CL World Brands Ltd and Angostura Ltd for the East Kilbride-based business.
Burn Stewart operates three distilleries and produces the Tobermory and Black Bottle brands.
The new owner said the deal would allow it to capitalise on the global growth in whisky consumption.
The deal follows an equal-partner venture established in 2007 between Distell and Burn Stewart, in which the two parties co-owned and marketed three Scotch Whiskies - Bunnahabhain, Black Bottle and Scottish Leader - in sub-Saharan Africa.
'Significant development'
Burn Stewart, which runs a bottling hall in East Kilbride and blending and warehousing facilities in Airdrie, operates three distilleries in Doune, Perthshire, Bunnahabhain on the Isle of Islay and Tobermory based on the Isle of Mull.
It also operates a sales and marketing branch in Taiwan and holds a majority stake in a spirits distribution arm in the USA.
Scottish Leader is the biggest brand in its portfolio.
The purchase is Distell's second major acquisition in recent years, having bought cognac brand Bisquit from Pernod Ricard in 2009.
Commenting on the deal, Distell Group managing director Jan Scannell said: "Our acquisition of Burn Stewart is a very significant development for Distell from a strategic perspective but also given the rich and proud history and heritage of the brands involved.
"This gives us an outstanding foundation from which to build, while cherishing their individual traditions."