Craig Whyte: former Rangers owner loses Ticketus battle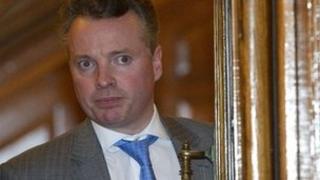 Craig Whyte has been ordered to pay £18m to the finance firm Ticketus after he lost a claim against him at the High Court in London.
The firm, which provided nearly £27m to help the businessman purchase Rangers Football Club two years ago, said it had also been awarded interest and costs.
The former chairman of Rangers has until 26 April to lodge an appeal.
The court battle has no effect on current operations at Ibrox.
The judgement, handed down last Friday, ordered Mr Whyte to to re-pay £17.7m - plus £680,000 in interest, as well as legal costs.
Ticketus, which is part of Octopus Investments, said the court had ruled that Mr Whyte failed to disclose his business background when he signed for the finance in return for a portion of three years of season ticket sales.
Lost control
The company described these as "serious and deliberate misrepresentations".
BBC Scotland revealed in October 2011 the then Rangers owner had previously been banned as a company director.
In a statement, Ticketus said: "Ticketus would not have entered into the ticket purchase agreement with the club if Mr Whyte had disclosed, as required, relevant information concerning his previous seven year disqualification from serving as a director, and the reasons for the disqualification".
Under Craig Whyte's ownership Rangers went into administration in February 2012 over non-payment of VAT and National Insurance totalling about £14m.
The contract with Ticketus was subsequently terminated by the administrators, Duff and Phelps, but it emerged Mr Whyte gave personal and corporate guarantees over the deal.
Mr Whyte lost control when the assets of Rangers Football Club were eventually taken over by a new company run by Charles Green's consortium, with the "oldco" liquidated.
Smaller amount
Ticketus' court action has not been for the full £27m. The amount it sought, £17.7m, covers the value of what it invested, with the £9m difference made up by the profit it expected to make if it were successful in meeting its season ticket sales targets.
Going after the lower sum was thought to be a simpler legal process, but Ticketus is understood to be leaving its options open for further legal action to recover the full sum.
The company said Mr Whyte sought to counter-sue, and that these attempts were rejected.
The BBC has not been able to see the actual wording of the High Court judgement.
In a separate development, Craig Whyte claimed last week he was prepared to go to court to prove he is still the owner of the football club's assets.
Mr Whyte was unavailable for comment.