KPMG: Sharp fall in Scottish business failures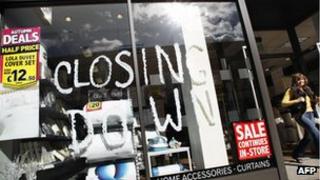 The number of Scottish business failures has dropped sharply, according to new figures.
Accountants KPMG said a total of 159 firms collapsed during the first quarter of the year - down from 294 in the same period last year.
The number of liquidations fell year-on-year from 264 to 122, or 54%, in the first three months of 2013.
Administrations and receiverships, which typically affect larger businesses, rose from 30 to 37.
Blair Nimmo, head of restructuring for KPMG in Scotland, said it appeared that "the worst of the market turmoil" was over.
"Significantly, fewer smaller companies are going out of business year-on-year, while the total number of corporate insolvencies has decreased by a third in the last six months," he said.
"However, these figures would also be viewed as slightly misleading in that the key factor in the downward trend, especially in relation to liquidations, is the very significant drop in HMRC appointments."
Mr Nimmo said the statistics suggested fewer companies were finding themselves in difficulty.
"The banks are reporting fewer companies entering their support units and our own clients generally appear in better health," he said.
"I sense that many businesses are accepting that the economy as it stands is unlikely to change materially in the short term - that in effect 'now is the new norm' - and have cut their cloth accordingly."