Sir David Murray's firm in £97m loss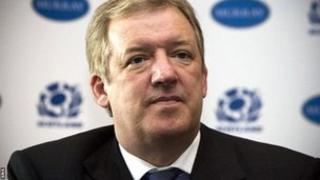 Sir David Murray, the property and metals magnate who owned Rangers football club, has reported increased losses in his most recent accounts.
For the year to last June, his Murray International Holdings (MIH) made a pre-tax loss of nearly £97m, some £10m more than the previous year's loss.
Sir David had to carry out major repairs to his finances, and had to sell off part of his metals business during the year, at low prices.
He sold Rangers to Craig Whyte in 2011.
Group turnover for MIH in the year ending 30 June 2012 was £351.3m, a reduction of £43.3m on the previous year.
In his chairman's statement, Sir David said most of this could be attributed to Rangers, which generated turnover of £53.6m before its sale.
Wage package
The group's debt continued to fall, from £637m to £370m, and staff costs were reduced from £70m to £48m, partly due to its Response call centre company losing its Sky contract, which resulted in 950 staff transferring to the new supplier, Herotsc.
However the wage package for highest-paid director of MIH - understood to be Sir David - increased by £20,000 to £813,000.
MIH was recapitalised and restructured in 2010 as part of a strategy to reduce its overall debt, which led to its metals division being partly sold off.
A further financial restructuring was completed in March of last year, which saw Lloyds Banking Group take a further £118m of share capital and premiums in return for reducing the debt levels of MIH by a similar amount.
Sir David and members of his close family continue to control, either directly or indirectly, 70% of the voting rights.
In his statement, Sir David said he was "pleased" with the judgement of the first tier tax tribunal's judgement on Rangers, which ruled in favour of the club's use of Employee Benefit Trusts (EBTs).
He added: "This was an exceptionally long, difficult and expensive process involving not just the Tax Tribunal but also significant efforts to resolve the matter with senior HMRC officials on a commercially sensible basis for all parties.
"To date, MIH has incurred costs in excess of £2m in relation to the first tier tax tribunal proceedings and efforts to reach a pragmatic solution with HMRC. These costs were not recharged to the club."
He also called on the relevant authorities to investigate how "confidential information" relating to the case had "become available for public consumption, stimulating considerable discussion and often ill-informed debate".
And he wrote of his "profound regret" at selling the club to Mr Whyte, adding: "We were continually staggered at the revelations that materialised since the beginning of 2012 and bitterly disappointed at the outcome of the administration.
"Now that the tax case has been determined, it is absolutely evident that the club need not have gone into liquidation.
"It is also abundantly clear that it would not have gone into administration or liquidation had the purchaser fulfilled its various contractual obligations and responsibilities."