Construction firms hit by late payment 'epidemic'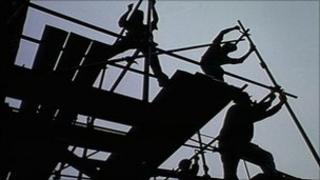 Late payment of invoices has reached "epidemic proportions" in the Scottish construction sector, according to a new industry survey.
The Scottish Building Federation (SBF) found four out of every five building firms had suffered problems with late payments over the past year.
It warned that cash-flow for many firms was being "critically undermined", raising the threat of business failure.
SBF said the issue was contributing to an overall lack of industry confidence.
According to the federation's latest Scottish Construction Monitor, the average builder said they were owed almost £90,000 in payments not made within stipulated periods.
A majority of firms also had to write off unpaid invoices over the past year.
The average value of invoices written off ran to almost £6,000, according to the survey.
The findings follow the latest official statistics, which showed 164 Scottish building firms were forced into bankruptcy last year - a rise of 122% on the number of construction companies going bust five years ago.
Trading 'risk'
SBF executive director Michael Levack said: "Late payment of invoices has long been the bane of many construction firms.
"But, in the current economic climate, it risks becoming the difference between continued trading and business failure.
"For Scotland's construction industry, this survey demonstrates that late payments have become an issue of epidemic proportions, affecting an overwhelming majority of businesses, irrespective of their size.
"What is more, a majority of construction firms have been forced to write off outstanding payments worth thousands because of persistent non-payment.
"It is a tragedy that otherwise excellent businesses are forced into bankruptcy because of a lack of the cash-flow they need to pay bills and salaries when customers fail to pay their bills on time - or at all. "