Workers rally in Dundee over blacklisting 'scandal'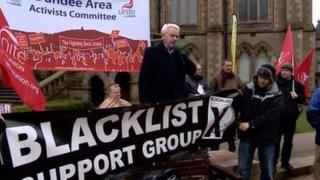 Construction workers who appeared on a blacklist used by major firms to vet employees have been taking part in a demonstration in Dundee.
They want the Scottish government to launch an inquiry into the practice in Scotland.
It is thought the names of about 600 Scottish construction workers appeared on a secret list discovered after a raid on a company in the Midlands.
Union officials have described the issue as "a national scandal".
The existence of the blacklist was exposed after a raid by the Information Commissioner's Office (ICO) on an organisation called the Consulting Association in 2009.
Public contracts
Construction firms paid to access the information. It is understood some of the firms were involved in major projects in Scotland.
The workers were listed as troublemakers for things like raising concerns over health and safety issues or being trade union members.
Those demonstrating in Dundee say their livelihoods have suffered, and many found it hard to get work.
They want companies that used blacklists to be banned from getting future government contracts and a full inquiry into the practice.
Unite regional industrial officer Rab Sherry, who himself was blacklisted, said, "We're only beginning to scratch the surface of what is nothing short of a national scandal and the rally represents a step-up of activity in our pursuit for justice and legislative change.
"It's not just a matter for Westminster to address; the Scottish government must start tightening its procurement policies to prevent known blacklisting companies from tendering and profiteering from future public contracts."
"They can also set-up an independent inquiry into the extent of the blacklisting scandal in addition to publishing the information we know it already holds on the issue. Nothing less will suffice."
The Scottish government has said it is totally opposed to blacklisting.
A spokesman added: "We are not aware of any evidence to suggest that blacklisting has been used in connection with any contracts awarded by the Scottish government or its agencies.
"We expect companies which are awarded public contracts to maintain high standards of business and professional conduct.
"We are in the process of analysing the responses to the Procurement Reform Bill consultation and determining what may be possible, within the framework of EU law, to deal with all types of inappropriate conduct by companies bidding for public contracts in Scotland."
Scottish ministers said they were also awaiting a report by the Scottish Affairs Committee which has been investigating blacklisting across the UK.