Scottish first-time owners struggling to buy next home, reports suggests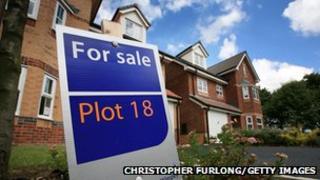 A report has suggested first-time home owners in Scotland are struggling to move up the property ladder.
The Bank of Scotland's Second Steppers report found 61% of first-time sellers were unable to afford the deposit for their next house.
Nearly a fifth of new home owners said they thought it was harder to move up the ladder than it was to get on it in the first place
The bank said it showed the property market still posed "tough challenges".
The report found the average deposit required by a second stepper last year was £37,057, four-times more than in 2002 (£9,053).
Increased deposits
It also suggested the average person trying to move to their second home has had their current property on the market for 13 months and would live in their first home for five and a half years, 18 months longer than new home owners did in 2011.
Two-thirds (66%) of the respondents said the level of deposit required was the main barrier to arranging a mortgage, citing this as a key reason for not being able to buy a new home.
Almost half had either lost some or all of the deposit they paid on their first property because of falling house prices.
Laurence Mann, head of mortgages at Bank of Scotland, said: "Despite recent improvements in the housing market, first-time sellers in Scotland continue to be faced with some very real and tough challenges when trying to make their next move on the property ladder.
"It is vital that this group of home movers receive more support and attention as they play an intrinsic role in getting the housing market moving again.
"To achieve a sustainable housing market in Scotland we need to see movement throughout the market."
He also warned: "If second steppers get stuck on the first rung, movement at the bottom half of the ladder comes to a standstill, and this bottleneck will not only restrict the supply of starter properties but will have a knock-on effect across the whole of the housing market."