Plan launched to get more people into Scotland's tourist sector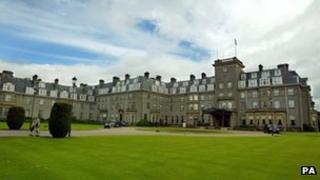 An initiative has been launched to help attract more people to work in Scotland's tourism sector.
The Skills Investment Plan aims to enhance the attractiveness of the sector to new entrants, ensure high-quality training and improve the industry's management.
It has been developed by Skills Development Scotland (SDS) in conjunction with the industry.
Tourism contributes about £4.1bn to the Scottish economy.
The Scottish government said that with the Commonwealth Games in Glasgow and the Ryder Cup at Gleneagles in 2014, getting new people into the sector and developing good leaders were industry priorities.
Skills needed
The Skills Investment Plan was launched by Tourism Minister Fergus Ewing during Scottish Tourism Week.
Mr Ewing said: "As we prepare the nation to welcome the world to Scotland in 2014, ensuring employers can access the training they need is more important than ever.
"Strong leadership and management from the tourism sector are vital to build on the success of campaigns like Brave and the current Year of Natural Scotland."
He added: "Tourism is one of the leading growth sectors of the Scottish economy, currently employing around 185,900 people across more than 13,000 businesses.
"With record investment, the sector has set ambitious growth targets and aims to increase annual visitor spend of between £5.5bn and £6.5bn by 2020, growth in the region of £1bn.
"The Skills Investment Plan provides a cornerstone for enhancing skills within the sector and it is a wonderful example of successful public and private sector collaboration, with all partners working together."
Upcoming opportunities
Chris Brodie, key industries manager at SDS, said: "Each and every time you visit a Scottish tourism attraction, be it a hotel, café, museum, festival or event, you should feel inspired by the high-quality authentic experience and excellent service you receive.
"Delivering the Skills Investment Plan depends on the sector working together and making a commitment to develop skilled and passionate people.
"We need to take advantage of the major tourism opportunities we have in 2014 and use the Skills Investment Plan as a conduit to raise standards even further in the future."
Marc Crothall, chief executive of the Scottish Tourism Alliance, said: "The tourism industry through the Skills Investment Plan is determined to make a difference in terms of the consistency of the service delivered in the sector.
"It is all about delivery of excellent service through training, focusing on understanding the customer's expectations."