Rangers' recovery lesson for Hearts
Douglas Fraser
Business and economy editor, Scotland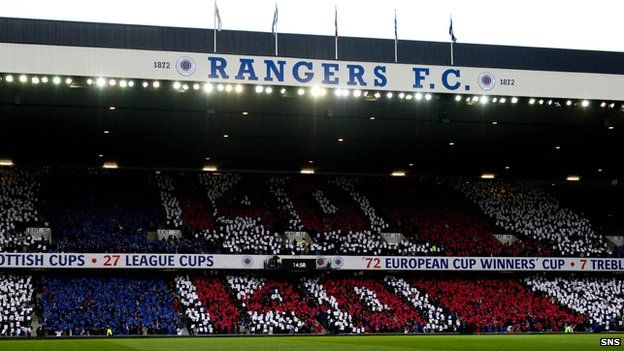 Scottish football is now looking to a future being fermented with apples. We have Glasgow's main rivals with shirt sponsorship provided by the two big rival brands for cider - Magners for Celtic, Blackthorn for Rangers.
Clarified scrumpy is just one of the revenue streams for the new bosses at Ibrox - a ground that may be about to become the Sports Direct Arena, or the Puma Stadium.
And, while Rangers contemplate the long road to recovery, on the same day and at the other end of the M8, we've got more evidence that the end-game is nigh for Vladimir Romanov's days as the Tsar of Hearts.
Let's start with Rangers. The first set of interim accounts, covering the seven months from Charles Green's takeover to the end of December, show there's a big gap between income and expenditure.
Yes, amid a lot of numbers, the two most crucial ones are £9.5m in income and £16.6m in operating costs. You don't need a degree in accountancy to figure out that it looks like an operating loss of more than £7m.
You might also reckon that that doesn't look all that sustainable. It's not. But it's hardly surprising that Rangers are making a loss. It can be afforded by a club that's sitting on more than £20m in cash.
And, on condition that that was the start of the turnaround, it can realistically look to better days ahead.
Break down the income streams and you find sponsorship and advertising below £400,000. Likewise, the funds from TV rights.
More than two-thirds came from tickets and hospitality, reflecting the new owner's success in persuading fans - at first sceptical about Green - to part with the money for season tickets.
More than 38,000 of them did so for the current season, which, as the club's statement to the London Stock Exchange points out, puts them among the most popular of British football clubs.
So one of several questions about these accounts: can they pull that off for another season, when there's less sense of crisis, the climb back to the top flight grinds on and possibly heads into new league structures, and when household budgets are being squeezed?
The other factor that Green hopes to pull round in 2013 is in merchandising. An unhappy parting of the ways with JJB, with which Sir David Murray did a dud deal, has been replaced in recent days with confirmation that Puma is to be kit sponsor, backed by Mike Ashley at Sports Direct.
With around 470 outlets, that's a lot of places for Rangers fans to buy replica kits.
There are bits missing from Rangers' first interim statement on the Alternative Investment Market. You wouldn't get any sense of boardroom tensions, despite extensive briefing that chairman Malcolm Murray has been resisting pressure to quit.
And, if you look at outgoings, you'll find no figure for the player wage bill - only a reassurance to shareholders that the new bosses are bearing down on costs.
It's reckoned that former owner Craig Whyte burned through £22m in June to December of 2011, though that has to be treated with some scepticism. Who knows what Whyte's accounts might have looked like?
But, assuming that Charles Green has some idea of outgoings before he arrived, he says the £22m figure compares with less than £16m in the final seven months of 2012.
He's had the assets revalued, meanwhile, and at £40m for Ibrox stadium and the Murray Park training ground, that's a lot more realistic than Sir David Murray's bloated estimates and the £5.5m for which the Green consortium bought Rangers last year.
To those who think that this revaluation is evidence of outrageous profiteering, there's one answer: where were you with your better offer when it mattered last year? As it headed towards liquidation, the club was only worth what someone was willing to pay for it - and the only bidder was Green.
And that brings us to Hearts. It's been on the market for a long time, but Romanov hasn't found the buyer he needs to limit his losses.
The Lithuania-based businessman appears to be running out of time - and rapidly. We're told the collapse of the bank he controlled, Ukio Bankas, is not necessarily linked to Heart of Midlothian FC, which is a subsidiary of the UBIG holding company under which Ukio operated.
We don't know, because there's never been clarity around the financial strings pulled by Romanov. But it stretches credulity to ask us to believe that he hadn't used the assets of his other companies as collateral to shore up his bank.
It's also hard to believe that the resignation of Romanov and his fellow directors on the board of UBIG, announced on Monday, is unconnected to Hearts' future. He remains the majority shareholder, but as both Sir David and Whyte discovered at Ibrox, that doesn't guarantee control.
What will happen next at Hearts? There are obvious comparisons with Rangers, but the differences are perhaps more significant.
The Edinburgh club does not face the uncertainty of unspecified punishments over its handling of player pay, or of a crippling tax bill, as Rangers did.
Unless the ownership of Tynecastle Stadium is split from ownership of the club, with its property redevelopment an option, and although Hearts could face a big points penalty, they ought to be able to pick themselves up under new ownership.
But it will have to be a new ownership that understands the harsh realities of careful financial management for survival in Scottish football.
You can also comment or follow Douglas Fraser on Twitter: @BBCDouglsFraser