Rangers Football Club sign kit deal with Puma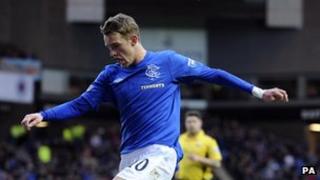 Rangers Football Club has announced a new five-year kit deal with sports brand Puma.
Under the terms of the agreement, Puma will become the official supplier and licensee of replica merchandise for the club.
The brand will feature on all of the club's team kit, replica kit, training wear and equipment.
Rangers said the partnership would start at the beginning of the 2013-14 season.
The value of the contract has not been disclosed.
It ends a long-standing relationship with Umbro as the club's technical kit provider.
Rangers said the partnership with Puma complemented its existing merchandising joint venture with retail giant Sports Direct.
The club's chief executive, Charles Green, commented: "We are delighted to announce this partnership with Puma, who are one of the world's iconic lifestyle brands.
"Rangers and Puma are massive global brands and this relationship will undoubtedly improve the distribution of club merchandise in the UK and overseas.
"Puma are renowned for their technical innovation and expertise in product design and support systems and we look forward to enjoying a productive and successful partnership over the next five years."