Food and drink leads rise in Scottish exports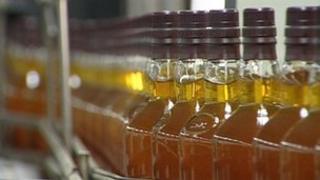 Scotland's exports grew slightly last summer following a strong performance from the food and drink sector, according to the latest official statistics.
The Scottish Index of Manufactured Exports rose by 0.8% in real terms over the three months to the end of September.
The previous three quarters had shown a decline in export volumes.
On an annual basis, manufactured exports fell by 0.8%.
The latest figures show export volumes remain about 10% below their pre-recession level.
In the latest quarter, the largest contribution came from the food and drink sector, which was up by 5.9%.
The rise was fuelled by drink exports, which grew by 9.2% from the second quarter, while food and tobacco was up by 1.6%.
There was also quarterly growth in the wood, paper, publishing and printing sector, which was up by 0.2% on the previous quarter.
However, the textiles, fur and leather sector fell by 8.3%, and there was contraction in engineering and allied industries (-0.8%), chemicals, coke, refined petroleum products and nuclear fuel (-3.2%) and metals and metal products (-0.4%).
On an annual basis, engineering and allied industries grew by 0.4%, led by strong growth in the mechanical engineering sector.
The volume of exports from transport equipment increased by 14.9%.
This was partially offset by a 5.4% contraction in electrical and instrument engineering over the year.
Annual growth in food and drink exports was 2.3%.
'Reputation for quality'
Finance Secretary John Swinney welcomed the latest figures.
"The food and drink sector is performing extremely well and it is clear that many counties have developed a taste for Scottish goods," he said.
"Our excellent natural larder guarantees some of the best produce in the world and this reputation for quality is paying dividends.
"By increasing exports we can help build sustainable economic growth for Scotland and the public sector is focused on working effectively with the business community to showcase the range of goods and services that Scotland has to offer."
Mr Swinney said there were "exciting opportunities to seize" in emerging economies in Asia, South America, the Middle East, Africa and Eastern Europe and in traditional areas such as US and Europe.
He added: "Improving our access and dialogue with international growth markets will open up Scottish exports to new customers and build on Scotland's attractiveness as a place for international trade and investment."