Property firm says homes are being priced 'unrealistically'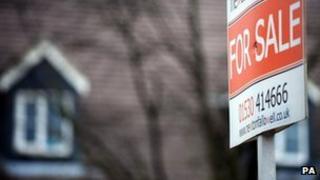 People selling detached homes in Scotland have been setting unrealistic asking prices, property firm S1 said.
The firm, which has a large share of Scotland's house advertising market, said the average offer for larger homes was 20% below the average asking price in the three months to December.
Flats, semi-detached and terraced houses attracted offers over the asking price during that period, S1 said.
But it said the average home was going for 6% less than the asking price.
The firm's managing director, Mark Smith, said detached properties were being priced at unrealistic levels, leading to a "significant reality gap".
He said: "Selling prices are falling in the majority of areas and asking prices aren't being reduced enough to close the gap.
"I think what this shows is the market has been much quicker to adjust at the lower end, while the market at the higher end is particularly entrenched with almost no change at all in the very substantial reality gap over the past 12 months."
With sales volumes down across Scotland, the majority of areas saw little or no change in the "reality gap", although both Edinburgh and East Lothian has bucked the trend, with the average property being sold for more than the asking price.
S1 said the average asking price in Scotland fell by 1.45% to £165,192 in the three-month period, but the price that properties were actually sold for also decreased, from £159,310 to £154,810, down almost 3%.
Iain Williamson of Ivy Property said: "We, as an estate agency, have to encourage sellers to set realistic asking prices.
"In doing this, we are not finding such an increase in the reality gap and in fact we are achieving selling prices close to home report values.
"If the selling price is not close to the asking price, it would indicate that the asking price was not correct."