Scottish consortium wins £100m drug research contract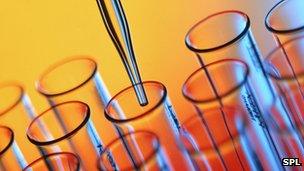 A consortium of Scottish scientists has won a £100m contract to research new medicines.
Life sciences firm BioCity Scotland in Lanarkshire and Dundee University beat off international competition to win funding for a new screening centre.
It is claimed to be the biggest investment of its kind in Scotland.
First Minister Alex Salmond said it reinforced Scotland's reputation as "a nation at the forefront of scientific breakthroughs".
The deal includes investment of £16.3m from the European Innovative Medicines Initiative (IMI) and £3.5m from the Scottish Funding Council and the Scottish government.
A further £75m worth of proprietary drug compounds is being made available to project partners by participating pharmaceutical companies.
The cash will be used to set up a screening centre at Biocity's facility in Newhouse to undertake research into new treatments.
A team of 30 international partners will work together to share the chemical compounds that form the building blocks of new medicines.
In partnership with the Scottish Universities Life Sciences Alliance (Sulsa), the University of Dundee will place a team of drug discovery scientists at BioCity to conduct screening and medicinal chemistry activities for the project.
Mr Salmond described the move as "putting Lanarkshire and Dundee at the heart of international drug discovery".
He said: "BioCity Scotland, SULSA and Dundee University have succeeded in bringing a huge and valuable piece of work to Scotland, against international competition.
"This provides enormous opportunities for Scotland's life sciences sector and is fantastic recognition of the talent and expertise of Scotland's life sciences community.
"In particular, this deal shows the combined strength of our universities and commercial experts.
Working together, they have been able to secure the biggest ever IMI contract of its kind in Scotland, putting Lanarkshire and Dundee at the forefront of drug discovery in Europe for many years to come."
Speaking on behalf of the Scottish Screening Centre, BioCity Group chief executive Dr Glenn Crocker said: "For me, the exciting aspect of this project is the opportunity it provides to discover novel drugs through the collaboration of seven large pharma companies and an open call to academics and industry across Europe.
"On top of that there is the potential to build on this platform, extending it into new screening technologies or wider compound collections.
"We are very pleased it will be based at BioCity Scotland."
Related Internet Links
The BBC is not responsible for the content of external sites.