Glasgow Airport poaches Polish flights from Prestwick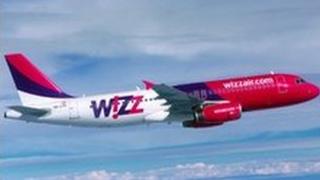 The European airline Wizz is switching two of its services from Gdansk and Warsaw from Prestwick to Glasgow Airport.
Wizz Air said the move to Glasgow would be more "convenient" for existing customers and was a "a step towards future passenger and route growth".
The carrier began operating flights between Scotland and Poland more than six years ago.
It leaves Ryanair as the only scheduled passenger airline using Prestwick.
The move will happen at the beginning of March.
Wizz Air started up in 2004 and now offers more than 250 routes across 30 countries.
Amanda McMillan, managing director of Glasgow Airport, said: "We are thrilled to welcome Wizz Air on board which is yet more good news for Glasgow Airport.
"Not only will it provide our customers with greater choice, it will further strengthen our connectivity with some of Europe's major cities and it means we can add Poland to our long list of destinations after an absence of more than 15 years."
Prestwick has seen a number of cuts in services in recent years and the airport is currently up for sale by its New Zealand owners, Infratil.
A spokesman for the airport said: "The loss of Wizz from March is disappointing after a long, positive and productive relationship but is relatively insignificant as its flights only account for a very small percentage of our total summer schedule.
"Our long-term partner Ryanair, on the other hand, has once again demonstrated its commitment to Prestwick by increasing capacity here by 10% to 27 routes for summer 2013."