Edinburgh Airport establishes £15m new route fund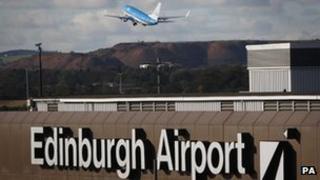 Edinburgh Airport has announced a fund intended to attract operators willing to serve new destinations.
Finance worth £15m annually has been pledged for airlines considering flights from Edinburgh.
The funding will only be handed over once a commitment has been made to a new service.
The airport is hoping to expand its route network to include key destinations in Europe, North America and the Middle East.
The airport currently has flights to 130 destinations.
VisitScotland has welcomed the announcement.
Chairman Mike Cantlay said: "Good connectivity is imperative to Scotland's success not just as a tourism destination in 2013, but as we prepare to host globally significant events in 2014 such as the Commonwealth Games, Ryder Cup and second Year of Homecoming.
"As with our recent support of Air Canada, aiding in the promotion of new routes between Toronto and Edinburgh, VisitScotland will continue to work closely with Edinburgh Airport to ensure we are marketing new routes at home and abroad, encouraging people across the world to make the journey to our breathtaking country, realising all Scotland has to offer."