Scots fishermen condemn Faroe Islands over herring move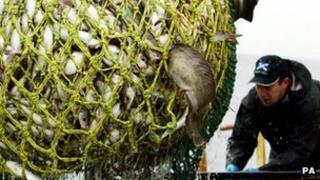 Scottish fishermen have condemned the Faroe Islands for pulling out of international sharing arrangements for Atlantic herring stock.
At talks in London, the Faroese withdrew from international management for Atlanto-Scandian herring.
Instead it set its own unilateral quota.
The European Union, Iceland, Norway and Russia agreed to continue to participate under an agreed management plan.
A total allowable catch of 619,000 tonnes has been set for Atlanto-Scandian herring this year, a fall of 26% on 2012. The UK's allocation is just over 8,800 tonnes.
The Scottish Pelagic Fishermen's Association claimed the Faroese were behaving "irresponsibly", with no concern for the stock.
Chief executive Ian Gatt said: "As is already the case with mackerel, the Faroese seem intent on pursuing their own national interests with no concern for the health of the stock or acknowledgment of the need for the fishery to be controlled by an international management plan.
"It is essential that the EU now moves quickly to implement sanctions against the Faroese for their unsustainable actions and ensure that they are denied access to lucrative EU markets for their fish products."
'Huge disappointment'
Scottish Fisheries Secretary Richard Lochhead backed the call for European sanctions, describing the Faroese decision to walk away from the talks as a "huge disappointment".
He said: "By continually choosing to ignore international agreements and set their own unacceptable quotas the Faroes are jeopardising the future of vital fishing stocks - and in turn the livelihood of our fishermen who have already had to face years of tough restrictions to ensure the health of the stocks and the survival of their industry.
"The health of fish stocks should not suffer due to this continued reckless attitude.
"I call on the EU to make use of their available powers to introduce sanctions against the Faroe Islands."
Atlanto-Scandian herring is a distinct stock that is found in the north-east Atlantic and is separate from North Sea and West of Scotland herring.
The latest development follows a similar long-running row over mackerel stocks with the Faroe Islands and Iceland in recent years.
They have both been criticised for declaring huge catches of the valuable fish, leading to fears for its sustainability.