SSE chief executive Ian Marchant to step down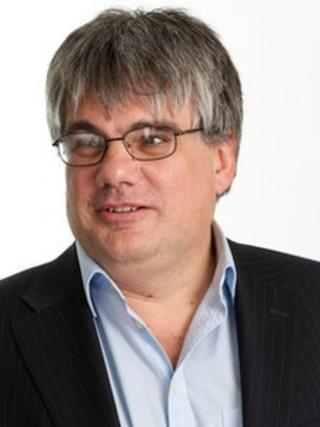 Ian Marchant is to step down as chief executive of energy giant SSE after more than 10 years in the job.
Mr Marchant said he felt "the time is right for a change for both SSE and me".
He will be succeeded on 1 July by current deputy chief executive Alistair Phillips-Davies.
Mr Phillips-Davies joined Perth-based SSE's predecessor company Southern Electric in 1997 before becoming energy supply director in 2002.
In a statement, Mr Marchant said: "I have been tremendously privileged to be part of a team that has created SSE into a company with a solid platform for future growth.
"I have thoroughly enjoyed my time as chief executive but feel that, after 10 years, the time is right for a change for both SSE and me.
"I am sure that SSE will continue to go from strength to strength under Alistair's leadership.
"As for me, I am looking forward to new challenges - whatever they may be."
SSE chairman Lord Smith of Kelvin described Mr Marchant as a "chief executive of the highest standard".
He added: "In every one of his years as chief executive, SSE has delivered above-inflation increases in the dividend while making significant progress throughout its operations, including the quality of service provided to network and retail customers, and in other key areas such as the development of renewable energy.
"With all of these achievements, and after 10 years' exemplary service as chief executive, I understand why Ian is choosing to step down."
'Outstanding leadership'
First Minister Alex Salmond paid tribute to Mr Marchant, saying he had been a key figure in "driving forward Scotland's ambitions to be a world leader in renewable energy".
He added: "Ian has shown outstanding leadership as chief executive of SSE over the last decade, creating investment and jobs across the country, while at the same growing a successful business.
"He has played an active role in our Scottish Energy Advisory Board, where I have seen first hand, not only his determination to challenge the status quo, but also his drive to galvanise action around the important issues of the day."
As part of the boardroom shuffle, finance director Gregor Alexander is to be given an expanded role in supporting and deputising for the chief executive in the running and operations of the SSE group.
Following these changes, the board of SSE will consist of two executive directors and five non-executive directors, plus the chairman.