Lloyds Banking Group wins £3.5m charity appeal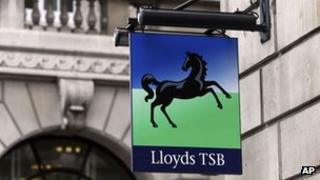 A banking group has won its appeal after a long-running legal dispute against a Scottish charity.
Lloyds TSB Foundation for Scotland was awarded £3.5m by the Court of Session in Edinburgh in 2011 after raising an action against its benefactor, Lloyds Banking Group.
The bank appealed to the Supreme Court in London, which has now dismissed the charity's claim.
Instead, the court ruled the foundation was entitled to just £38,920.
The case centred on Lloyds' acquisition of Halifax Bank of Scotland at the height of the 2008 financial crisis.
As a result of the deal, Lloyds' audited accounts for 2009 included a figure for "gain on acquisition" of more than £11bn.
This had the effect of converting a loss of some £10bn into a profit before taxation of more than £1bn in Lloyds' audited accounts.
Written judgement
The Lloyds TSB Foundation contended that the £1bn figure entitled it to a payment of of £3,543,333 from the bank under an agreement between the two originally signed in 1986, which was later amended in 1993 and then replaced in 1997.
A judge - Lord Glennie - originally ruled against the charitable foundation in 2011, but later the same year, appeal judges at the Court of Session overturned his decision and ordered Lloyds to pay £3.5m to the charity.
However, in a written judgement published on Wednesday morning, the panel of five Supreme Court judges unanimously agreed to grant Lloyds Banking Group's appeal against the Court of Session's ruling.
They ruled that the deeds should be understood in the legal and accounting context at the dates when they were executed.
In this respect, when the original deed was made in 1986, amended in 1993 and replaced in 1997, two fundamental legal and accounting principles applied: that a profit and loss account was concerned with ordinary activities before taxation, and that only profits realised at the balance sheet date could lawfully be included in the profit and loss account.
The banking group announced in 2010 it planned to terminate its covenant with Lloyds TSB Foundation for Scotland, which had paid out more than £85m to Scottish charities over the past 25 years.