Global Connections Survey: Exports rise by £1.6bn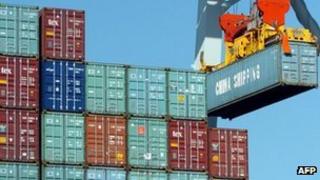 A sharp rise in sales to the European Union and Asia helped boost Scottish exports in 2011, according to new figures.
Data released in the latest Global Connections Survey showed that total exports climbed by £1.6bn to £23.9bn.
Food and beverages led the exports charge, accounting for £4.2bn of the total.
Manufacture of coke, refined petroleum and chemicals represented the second largest figure at £3.7bn.
Sales to the EU increased by 14.7%, while exports to Asia grew by 8.7% in 2011.
The US remained Scotland's top overseas destination, with an estimated £3.5bn of exports, followed by the Netherlands (£2.7bn), France (£1.9bn) and Germany (£1.4bn).
Exports to the rest of the UK in 2011 were estimated at £45.5bn, with £24.5bn attributable to service sector companies and £11.6bn to manufacturing sector companies.
The Scottish government has set a target of a 50% increase in the value of international exports by 2017.
First Minister Alex Salmond said: "Strengthening Scotland's economic links to other countries is a priority of this government and this latest survey demonstrates that our drive and work to seize overseas exports is really taking off - our exports have literally rocketed.
"The public sector is focused on working effectively with the business community to showcase on a global stage the products and services Scotland has to offer, and to help companies operating in Scotland to grow and export."
He added: "There are exciting opportunities to seize in emerging economies in Asia, South America, the Middle East, Africa and Eastern Europe and also in the traditional export markets such as US and Europe.
"Improving our access and dialogue with international growth markets will open up Scottish exports to new customers and build on Scotland's attractiveness as a place for international trade and investment."