Aberdeen Journals to consult on redundancies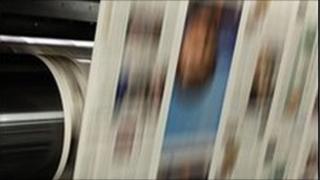 Nearly 50 jobs are under threat at Aberdeen Journals following moves by the publisher to transfer its printing operation from Aberdeen to Dundee.
The firm, which is owned by DC Thomson, said 46 redundancies could be made.
It said it needed to centralise printing and distribution of its titles, which include the Press and Journal and Evening Express, at a new £25m printworks in Dundee.
Editorial and commercial staff are to remain in Aberdeen.
The publisher will consult on job losses with production staff at its Lang Stracht base in Aberdeen.
A spokeswoman for Aberdeen Journals said: "After a thorough investigation of all possible avenues to maintain an economically viable and sustainable printing plant in Aberdeen for the long term, we are actively exploring the option of printing all of our newspaper titles in Dundee.
"This would mean that The Press and Journal, Evening Express, Aberdeen Citizen and ScotAds would no longer be printed in Aberdeen and would be transported and distributed directly from a single print centre in Dundee.
"The company will always have a base in Aberdeen for our editorial and commercial teams."
She added: "We are firmly committed to providing local news to local communities and we will continue to be located in the communities we serve.
"The company's proposals are required not only to stay competitive but also to create new opportunities for the business and improve services for our customers."
DC Thomson is investing more than £25m in refurbishing its printing facility at Kingsway, Dundee.