Scots manufacturers report further weakening in orders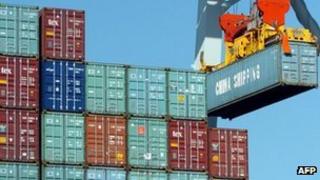 Scotland's manufacturers faced a further weakening in orders and output around the turn of the year, according to a new survey by employers' organisation CBI Scotland.
It found export orders in the sector fell for the first time in three years.
Domestic orders also declined for the seventh successive quarter.
However, information from the 34 firms taking part in the research showed modest signs of improvement over the next three months.
The CBI's latest Scottish industrial trends survey found total new orders continued to decline "markedly" over the past quarter.
Unit costs increased
The decline in export orders disappointed expectations, but growth was expected to resume over the next three months.
Concerns remained about economic conditions in some overseas markets.
Respondents reported that average unit costs increased substantially and said they expected them to increase again significantly over the next quarter.
Firms said they expected domestic prices to rise and export prices to fall a little.
Investment intentions for the year ahead were mixed, with increases in spending expected in product and process innovation but declines forecast in training and retraining and investment in buildings.
CBI Scotland director Iain McMillan said Scottish industry faced challenging times ahead, with disappointing forecasts for economic growth in the UK, the EU and some overseas markets.
Staffing cut fears
"These results are disappointing and show that manufacturing industry in Scotland still faces a very difficult economic situation both at home and overseas," he added.
"Although expectations for domestic orders and exports over the next three months are positive, the numbers do not indicate any real strength of recovery going forward."
Meanwhile, in a survey conducted by the Federation of Master Builders, a third of small to medium-sized building firms said they feared they would have to cut staffing levels this year in the face of a continuing decline in the industry.
The state of trade survey of 400 firms across the UK suggested a "bleak" outlook for 2013.
Figures indicated that Scotland suffered the second worst deterioration in workloads in the whole of the UK.