Life sciences boosted by new £50m venture capital fund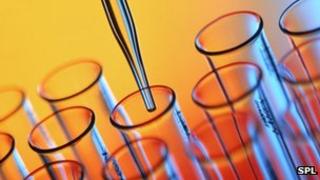 A £50m venture capital fund focusing on early-stage life science and health technology companies has been launched in Scotland.
Rock Spring Ventures said it had already secured commitments worth more than £25m from a range of investors.
Backers include the universities of Glasgow, Edinburgh and Aberdeen.
The fund aims to provide capital to the most promising life science technologies, including those being spun-out from leading UK universities.
Based in Edinburgh, the fund will invest in young companies developing novel approaches in the study and treatment of major diseases and technologies designed to advance better healthcare delivery.
Initial investors include the European Investment Fund (EIF), Scottish Enterprise (via the Scottish Investment Bank), Strathclyde Pension Fund and Rock Spring Ventures.
Rock Spring Ventures EU is co-led by Sinclair Dunlop, who recently returned from the US to his native Scotland to launch the new fund.
Mr Dunlop said: "We are particularly excited to be partnering with a unique investor group that includes three of Scotland's world-class universities to provide the capital needed to realise the full potential of their spin-out companies."
Fund co-manager Kyp Sirinakis added: "We believe early-stage life science and health technology companies in Scotland and the rest of the UK offer the potential for strong financial returns to our investors.
"We also believe that what we're now setting in motion will, in time, play an important part in further developing the commercial potential of early-stage life sciences research across the UK."