KPMG report highlights big fall in value of fraud cases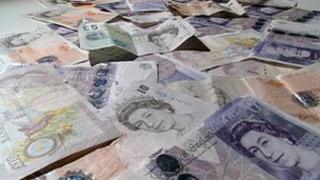 The total amount of fraud in Scotland has returned to "normal levels" following a huge rise in 2011, according to a new report.
Accountancy firm KPMG estimated the value of fraud last year at just over £4.9m - down from £96.6m in 2011.
KPMG said 2011 had been dominated by an illegal fish landing case which accounted for a total of £91m.
The firm's fraud barometer estimated the value of fraud overall in the UK last year at £824m.
Scottish courts dealt with six cases of fraud involving sums of more than £100,000, compared to 11 in 2011 and 16 in 2010.
The biggest cases included a man who cashed cheques worth £1.5m at a cash and carry in Dundee to sustain a gambling habit and a restaurant supervisor who was jailed after transferring £700,000 to his own account using a credit card machine at a Little Chef.
'Eye-watering'
Ken Milliken, forensic partner for KPMG in Scotland, said: "What we are seeing is individuals looking to feather their nests through ripping off employers, banks or the government.
"In the last few years we have become used to sophisticated frauds at eye-watering values.
"While the total value of fraud has dropped substantially in the absence of so-called fraud 'super' cases, the old-fashioned conman hasn't given up his tricks."
He added: "Times may be tough but the data shows that some people are unwilling to give up the lifestyles they've become accustomed to."
Analysis of UK figures suggested identity fraud more than doubled in value to £26.3m from £12.3m the year before.
Counterfeit goods fraud was three times the five-year average at £22.9m.
The data also suggested a similar rising trend for procurement fraud, which increased to £21.4m in 2012.
The number of cases involving employee fraud rose to 35 in 2012, up from 22 the year before.
There was also a marked increase in cases involving individuals over-claiming benefits or evading tax.
However, the report found the number of organised crime cases fell from 98 in 2011 to 79 in the 12 months to December 2012.