Ministers unveil new business rates relief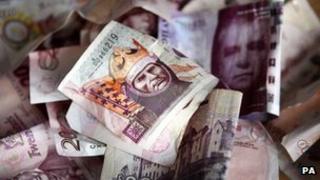 Scottish ministers are to introduce business rates relief of up to 100% for new empty properties in a bid to boost speculative development and investment.
The scheme will cover new commercial properties built from April 2013.
The Scottish government expects it to provide businesses overall with an extra £5m-£10m in rates relief.
However, the Scottish Chambers of Commerce said it was time for ministers to "go back to the drawing board" on empty property relief.
The Scottish government said the new scheme, which will run for three years, would encourage the supply of new-build business premises.
It would also complement the "Fresh Start" scheme, which offers landlords a discount on their rates bill for bringing empty commercial properties back into use.
Local Government Minister Derek Mackay said he wanted to see Scotland "thriving and be attractive to investment".
"This new rates relief builds on a package of actions the Scottish government is taking to support that," he said.
"Scotland already has the most competitive rates regime in the UK, worth more than £500m annually, and it's important that in tough times we listen to our developers and our business community and take steps to encourage their continued investment in the economy."
He added: "Through this new relief and our Fresh Start initiative, we are encouraging people to invest in Scotland, set up shop, and capitalise on the business opportunities we offer."
Plans 'misguided'
Business leaders said they welcomed the move but called for ministers to reconsider separate plans to raise rates paid on empty commercial premises from April, following the passing of the Unoccupied Properties Act.
The Scottish Chambers of Commerce said it firmly believed the plans were "misguided" and would damage the capacity of town centres to adapt to changing economic and social trends.
Chief executive Liz Cameron added: "The government has now had to make concessions to its policy in the shape of trying to address lack of demand through its 'Fresh Start' scheme and now taking on the threat to speculative development through this new proposal for relief on new-build properties.
"Welcome though these measures are, they seem to represent a tacit admission that the government's plan to reduce empty property relief was flawed from the outset."
CBI Scotland assistant director David Lonsdale said the time-limited rates concession was "welcome and positive recognition of the importance of keeping business taxes down as a means of boosting demand for commercial premises".
However, he added that ministers should "go much further and think afresh" about plans to increase rates paid on empty commercial premises.
Mr Lonsdale claimed the move would "penalise the majority of firms" with empty premises to the tune of £36m in additional business rates over the next two years.
The Scottish Property Federation said new speculative commercial property development was an important part of the economy that had been "sadly lacking" in recent years.
Chairman Jestyn Davies added: "We welcome the minister's move today which shows that the government has listened to industry concerns about the impact of reducing empty property rate relief on speculative new development which can often take more than a year to let.
"While we understand that the government has had to operate within the confines of state aid rules, this move is nonetheless a much needed and timely boost for the commercial development industry."