Group to help school leavers gain vocational skills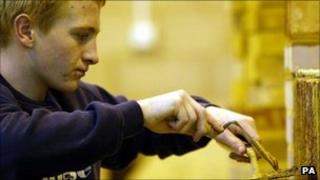 The Scottish government is to set up a commission to improve the vocational skills of young people.
The group will look at vocational education and careers advice in schools and how they prepare young people for employment with the skills required for their region.
It will also study how to persuade business and industry to take on young people just out of education.
The group, chaired by Sir Ian Wood, will report back next year.
In 2011 the Scottish government appointed Angela Constance as the first youth employment minister in the UK, pledging to deliver 25,000 modern apprenticeship opportunities each year.
Alongside Sir Ian, former chairman of the Wood Group oil services firm, the commission includes Sir Willie Haughey, boss of City Refrigeration and Grahame Smith of the Scottish Trades Union Congress.
Their remit includes the question of how well the final years of secondary school provide for those who are not going to university, and how employers could better support the transition into work.
'Important bridge'
Sir Ian said: "Ministers have clearly expressed a wish to pull together a group, key stakeholders, schools, higher education, further education and businesses and to look at all aspects of preparation of young people at the school stage.
"There are two very clear streams, those for higher education and those more likely to go in to vocational, and are we doing enough for vocational education?
"There are some very good practices in Scotland's schools, and there is a very important bridge in terms of preparation.
"There's some good college/school partnerships and some good college/business partnerships."
He added "We need to ensure that colleges focus on employability and also on understanding the skills required in the local community to maximise opportunity."
"And actually the third leg, which is incredibly important, is business itself.
"Businesses have been a passive consumer, they haven't shown interest in the education process and we want to encourage more companies to show interest and provide work placements and provide basic jobs."
Ms Constance, the youth employment minister, said: "We have and must do more. I have always been clear that our ambition has to be far greater than just returning to youth levels that we had seen pre-recession.
"We currently have a good offer to young people, but we want to build on our successes, build on the success of the Modern Apprentice Programme for example, and to have a world class vocational, education and training system."