Scottish regional airport passenger numbers rise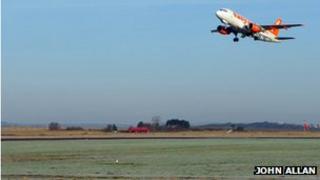 Scottish regional airport operator Hial recorded a rise in overall passenger numbers last year, despite poor performances from some of its airports.
Its 11 airports handled nearly 1.3 million passengers in 2012 - an increase of 3.1% on the previous year.
Sumburgh was the fastest growing airport - up 13.2% in the year - followed by Barra and Tiree.
However, passenger numbers fell at Kirkwall, Dundee, Benbecula and Stornoway.
Inverness, the group's busiest base, ended the year with more than 614,300 passengers - an increase of 3.4% on 2011.
Hial said growth was driven by increased demand for Flybe's Amsterdam service.
Recent figures suggested about 13% of passengers were using the service to connect to global destinations with Flybe's codeshare partner, KLM.
December figures
December showed a 4.4% year-on-year increase in traffic, with more than 94,700 passengers across the group.
Wick John O'Groats was the fastest growing airport last month, with a 91.1% increase in passenger numbers as a result of oil-related helicopter and fixed-wing traffic.
Similarly, oil sector charters and refuelling activity helped boost traffic at Sumburgh by 41.3%.
Barra, Kirkwall and Tiree also recorded increased traffic, with passenger numbers up 10.9%, 11.8% and 5.9% respectively.
Dundee recorded a drop of 52.8% following the withdrawal of scheduled services to Belfast and Birmingham.
Hial blamed a combination of schedule changes and weather related cancellations for a 4.3% fall at Inverness.
Numbers also fell at Benbecula, Campbeltown, Islay and Stornoway.
Hial managing director Inglis Lyon was pleased with the operator's growth record in 2012, given the difficult economic conditions of the past year.
"There has been a marked growth in oil-related traffic at Sumburgh and Wick John O'Groats, while Inverness has continued to benefit from the success of its Amsterdam service," he said.
"We believe there is scope to expand the frequency of this service and enhance the global connections available via Amsterdam.
"There is clearly more work to do to attract new services to Dundee and we have been in discussion with a number of carriers.
"However, given the prevailing economic conditions, it is likely to be some time before we make progress."