Virgin Media to create 60 jobs in Bellshill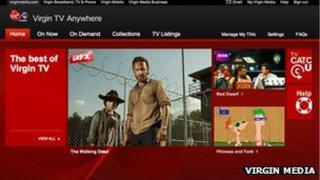 Virgin Media is to create 60 new jobs at its customer contact centre in North Lanarkshire.
The company said the move was in response to growing consumer demand for next generation television and better broadband.
The new roles will be in addition to the 750 staff who are already employed at Virgin Media's call centre in Bellshill.
The posts will be advertised over the next few weeks.
The centre at Bellshill also hosts Virgin Media Business, which offers telecom services to small to large businesses, as well as to the public sector.
Virgin Media has about five million cable customers and three million mobile customers in the UK.
Virgin now has about 2,000 staff in Scotland, split between Bellshill, Edinburgh and Glenrothes.
Virgin Media's chief operating officer, Andrew Barron, said: "By creating more opportunities, we will be able to meet the sustained appetite for TiVo, already the leading connected TV service in the country, and superfast broadband and ensure a great experience for all our customers."
Finance Secretary John Swinney welcomed the announcement.
He said: "The expansion of Virgin Media in Bellshill is testament to the skills and expertise of the local workforce as well as good news for employment in the wider Lanarkshire area.
"This announcement is also a positive step for our digital ambitions for Scotland.
"We have committed to providing a world-class, future-proofed broadband infrastructure across the whole of the country by 2020 with a step change in speed and coverage by 2015, and the private sector has an important role to play in this."