Tennent's sales volumes fall in UK, reveals C&C Group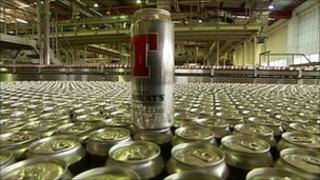 The drinks brand, C&C Group, has reported that sales volumes of its Tennent's brand fell in the UK in the nine months to end of November.
Sales volumes dropped by 5.5% in the UK, but revenue increased during the period by 7.5%.
C&C Group, whose brands include ciders Bulmers and Magners, described its Scottish beer's performance as "solid".
The company said the trading environment for its various products was "challenging".
It said its full-year profits would be at the lower end of its range as previously stated.
C&C, which is based in Dublin, said international sales volumes of its beer and cider grew by 28% in the three months to the end of November.
In the Republic of Ireland, volumes of Tennent's increased by 22% in the same period, although the group said that this was from "a small base position".