Christmas revival as high street sales rise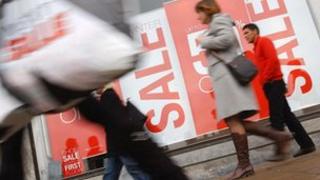 Christmas helped to revive Scotland's high streets last month, according to the latest retail figures.
The Scottish Retail Consortium (SRC) said sales matched UK figures for the first time in nearly two years.
A 1.5% increase on the previous December was driven by non-food sales, which recorded their best performance since March 2011.
SRC described the figures as a "relatively good result" at the end of a "relentlessly tough year".
Excluding Easter, Scottish sales recorded their strongest growth since December 2011.
However, SRC said last month's figures were flat in real terms, after taking account of shop price inflation.
Total food sales were 1.4% up on December 2011, but 2.7% down in real terms.
SRC director Fiona Moriarty said: "Coming at the end of a relentlessly tough year for Scottish customers and retailers, this is a relatively good result.
"After a year of belt tightening, that left Scottish retailing consistently underperforming the UK as a whole, it seems significant numbers of people decided to put their jobs and money worries on hold and spend.
"For the first time in nearly two years, Scottish sales growth was not below the UK figure. At least when set against retailers' low expectations, that is something to celebrate.
"We can only hope that this signals the beginning of a permanent turnaround."
David McCorquodale, head of retail for KPMG, said: "We're not seeing a major surge in Christmas spending here, but for a change December's total sales and like-for-likes have risen in line with the rest of the UK."
He added: "January is traditionally when consumers pay off personal debt which means the month will be challenging for many retailers.
"The lack of economic growth and shaky consumer confidence means 2013 may be yet another year of deferred discretionary spend, making life difficult for the average Scottish retailer for the foreseeable future."
'Positive news'
The Scottish government described the latest data as "positive news".
A spokeswoman said: "In these tough times we are maintaining Scotland's position as the most supportive business environment in the UK and our Small Business Bonus Scheme, and other reliefs, provide zero or reduced business rates for 63% of shops in Scotland.
"We are putting money into people's pockets and supporting household incomes with a council tax freeze, the living wage for public sector workers and investing as much of our own money as possible into public projects to create jobs.
"However, there are challenges for the retail sector, as shown by recent developments at HMV and Jessops, and the Scottish government is doing all we can to help."