Stirling firm Superglass installs new production line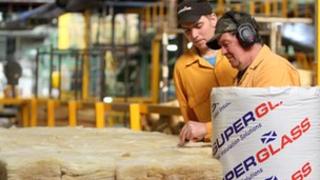 A new production line installed by insulation firm Superglass is now running at full capacity, the company has reported.
The Stirling firm is introducing new "fiberising" technology to help it reduce costs.
The move is a key part of a turnaround plan launched last year after the firm got into financial difficulties.
In a stock market update, Superglass said a second line was scheduled to be upgraded in the spring.
It also reported that the first phase of its capital investment programme - known as Project Phoenix - remained on budget and on track for completion during the first half of this year.
Chairman John Colley said in a statement that estimated annual cost savings from Project Phoenix had increased from original expectations of £3.6m to as much as £5m.
He said: "The increase in savings is predominantly due to the installation of new fiberising technology which, as well as improving our cost base, is enabling us to meet the increasing demands of the marketplace in terms of competitive pricing, product quality and specification.
"The savings from Project Phoenix have started to filter through.
"Whilst these will be meaningful in the current financial year, the implementation of Project Phoenix was always planned to incur significant one-off costs as a result of six weeks' production downtime on each line to complete the technology upgrades."
He added: "The first full year of savings is expected in 2013-2014. We continue to identify, implement and where possible accelerate further cost reductions."
Mr Colley described market conditions in the UK as "extremely challenging" and difficult to predict.