Scottish house market confidence growing, Rics survey suggests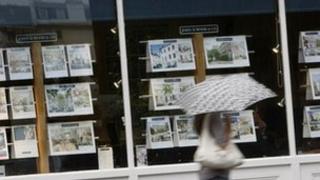 Surveyors expect house sales and prices to increase over the first quarter of 2013 amid signs of growing confidence in the sector, a report has suggested.
The Royal Institute of Chartered Surveyors (Rics) said more surveyors were predicting an increase rather than a fall in the number of transactions.
More surveyors also forecast price rises over the first quarter.
Its latest survey suggested the housing market in some parts of the country may now be "over the very worst".
Confidence among surveyors grew, despite a net balance of 19% more respondents reporting a fall in house prices in December.
Demand from would-be buyers remained positive last month, with the number of homes coming up for sale also increasing.
During December, a net balance of 37% more surveyors reported an increase in new instructions.
Across the UK, London once again bucked the overall trend and saw significant increases in prices, while the North East and Wales saw the biggest drops.
Rics Scotland director Sarah Speirs said: "As we start the new year confidence in the housing market does appear to be improving, with Rics members predicting that transaction levels will continue to increase in many parts of Scotland.
"However, despite these tentative signs of recovery in the sales market, more still needs to be done to ensure potential buyers can access the market at every level."