North Sea oil field's production hit by severe weather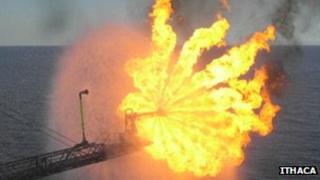 Oil operators have yet to indicate when production will resume at a North Sea field hit by recent severe weather.
This week it emerged that the MacCulloch field to the north east of Aberdeen was shut in due to suspected damage caused by storms.
The news was revealed by Ithaca Energy, which has a stake in the development.
ConocoPhillips - which leads the consortium that owns the field - said it was a matter for the operator, North Sea Production Company.
North Sea did not respond to requests by BBC Scotland for information about the closure.
In outlining its production expectations for 2013, Canadian firm Ithaca said: "The MacCulloch field is currently shut-in due to suspected damage resulting from the recent period of extreme weather in the North Sea.
"The field operator, ConocoPhillips, is currently investigating the exact nature of the damage and the schedule associated with reinstating production.
"The 2013 production guidance range allows for a potential extended shutdown period associated with the resumption of normal operations on the MacCulloch field."
Ithaca did not specify when the field was closed, but last month the east coast of Scotland was battered by severe gales which caused damage from Shetland down to North Berwick.
Ithaca recently purchased a 14% stake in MacCulloch, which lies 250km (155 miles) north east of Aberdeen on the UK Continental Shelf.