Edinburgh Airport reports fall in passenger numbers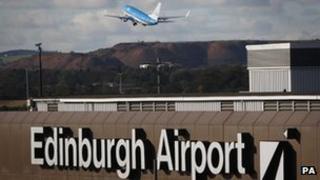 Edinburgh Airport has said it is optimistic of a return to growth this year, after reporting a fall in passenger numbers.
A total of 9.2 million passengers travelled through the airport in 2012 - 190,000 fewer than the previous year.
Edinburgh said it had "lost some momentum" as a result of BAA selling the airport last April.
In contrast, Glasgow Airport reported an annual increase of 4.2% in passenger numbers to almost 7.2 million.
Figures for Edinburgh showed more than 580,000 passengers travelled through the airport last month - a drop of 1.8% on December 2011.
Reduced international passenger numbers accounted for most of the fall.
Edinburgh, which was sold to Global Infrastructure Partners (GIP) last April, said 2012 had been a "challenging" 12 months.
The year ended on a disappointing note for the airport, when German airline Lufthansa Regional announced it was switching its Düsseldorf service from Edinburgh to Glasgow from April.
Chief executive Gordon Dewar said: "It's clear that we lost some momentum at the beginning of the year due to the sales process and the last months of BAA ownership.
"However, I'm delighted that with the work done on new route development since the airport was purchased by GIP, 2013 will see us offer Scottish passengers over 130 routes in 2013.
"Clearly, I wish to see this figure grow, but it's a fantastic start to the year given what we've been through."
He added: "New routes from Easyjet, Ryanair, Air Canada and Virgin Atlantic all mean that we will be offering our passengers more choice than ever before."
Traffic increase
Meanwhile, Glasgow Airport reported a 4.3% increase in traffic last month, boosted by a sharp improvement in the performance of its long haul services.
Its December figures ended a good year for the airport, which reported an annual traffic increase of 4.2%.
The airport attributed much of the growth to the introduction of new routes and services, including direct flights to Amsterdam, Barcelona and Rome, which contributed to a strong demand for international travel.
Domestic and international traffic for 2012 was up 2.1% and 6.4%, respectively.
Glasgow Airport managing director Amanda McMillan said: "We worked extremely hard throughout 2012 against a backdrop of continued economic uncertainty, to expand our route network and provide passengers with greater choice.
"We had considerable success in attracting services such as Emirates' second daily flight to Dubai, which not only encouraged more people to fly to and from Glasgow but helped strengthen Scotland's connectivity with important global markets."