Ithaca Energy to invest $360m in North Sea oil field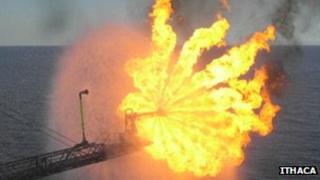 Canadian firm Ithaca Energy has announced plans to invest up to $360m (£224m) in an oil field in the Central North Sea.
The company said its capital expenditure programme would include a development drilling campaign in the Greater Stella Area (GSA).
The drilling is scheduled to start late in the first quarter of this year.
Ithaca has a 66.6% working interest in the field, which lies about 240km (149 miles) south east of Peterhead.
The company said it would fund the programme from existing and anticipated cash resources, as well as from a current debt facility.
This year, Ithaca expects its North Sea interests to produce between 6,000 and 6,700 barrels of oil a day, mainly from the Cook, Athena, Beatrice and Jacky fields.