Hovis firm announces plans to close Glasgow flour mill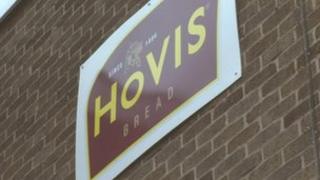 Premier Foods has announced plans to close a flour mill in Glasgow, with the loss of 15 jobs.
The company said the move followed a review of its milling capacity in light of reduced volumes.
The mill mainly supplies flour to the group's Hovis bakery in Duke Street, Glasgow.
Premier said it would start consulting with affected employees soon, with a view to closing the mill by the end of March.
It added it hoped to be able to redeploy the majority of staff to alternative roles at its other operations in the Glasgow area.
Group supply chain director Bob Spooner said: "We recognise the impact our proposal will have on our employees.
"However, given excess capacity in our milling network, it's important we take the necessary steps to build a more sustainable milling business in the future."
In November, Premier announced it was cutting 900 jobs at its bread division and closing two bakeries.
The company said it would close two bakery sites in Greenford, west London, and Birmingham this year.
Premier, which is the country's largest branded food producer, is also simplifying its bread distribution network by cutting some 130 routes.