Visitor numbers to Scotland fall by 12%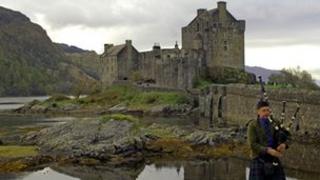 The number of tourists visiting Scotland fell sharply last summer, according to official figures.
The number of nights travellers spent in the country between July and September fell by more than 100,000 - or 12% - on the same period in 2011.
The amount they spent also dropped by about £50m, according to Office for National Statistics (ONS) data.
In London, overnight visits during the same period fell by 5% while spend increased by 13%.
Meanwhile, the ONS International Passenger Survey indicated a 2% year-on-year increase in visitors to Scotland over the 12 months to September, with a 12% rise in spend.
A different set of 12-month figures published by VisitScotland suggested a 3% fall in domestic tourism visits to Scotland when compared to the previous year, while domestic tourism expenditure fell by 2%.
At the end of the summer, the tourist body said it planned to spend £3m on an autumn advertising campaign after describing the holiday season as "challenging".
'Undeniably tough'
VisitScotland chairman Mike Cantlay said: "Times have been undeniably tough for businesses over the summer, particularly in certain sectors like outdoor attractions and activities.
"We all know that the summer was a total washout except in the north west, with many event cancellations, and that the Olympics impacted on domestic visits outside of London.
"This is such a shame because the first part of the year was a huge success despite the economic gloom - evidenced by a 3%increase in spend in the last 12 months, and a tourism industry which was geared up for making the summer a success."