Livingston firm Touch Bionics achieves record sales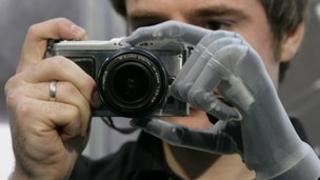 Prosthetic limb specialist Touch Bionics has achieved £10m in annual sales for the first time.
The Livingston-based firm said its revenues grew by 17% in 2012 after expanding its product lines.
They included the launch of its "i-limb ultra" prosthetic hand and an upgrade to its digits solution for people with missing fingers.
The results were released in the same week as Touch opened a new production facility in Newburgh, New York.
Touch Bionics chief executive Ian Stevens said: "We are pleased with our performance in 2012 and are looking forward to continuing our growth in 2013, when we plan to announce further exciting product developments.
"The addition of new manufacturing facilities and expansion of our training capabilities mean that we are ideally positioned to reach new levels in the year ahead."
'Meeting demand'
The company's facility in New York will be used as its primary base for the production of livingskin, a range of silicone prostheses.
Its new centre will support Touch Bionics' existing livingskin operations on Broadway, more than doubling the size of the company's overall workspace in Newburgh.
"As global demand for our livingskin prostheses has been increasing, we needed to ensure that our production capacity is able to scale to meet that demand," said Mr Stevens.
"This new facility will increase our production capacity significantly, while also ensuring that we retain our existing team of livingskin experts in Newburgh."
Touch, which is a spin-out from the UK's National Health Service, is funded and supported by Archangel Informal Investment and Scottish Enterprise.