Stagecoach to invest £75m in new buses and coaches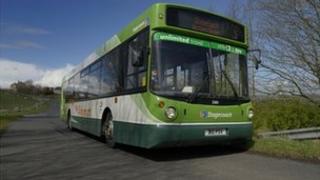 Perth-based transport group Stagecoach is to invest more than £75m in hundreds of new vehicles, it has announced.
The buses and coaches will be used in the firm's operations in the UK and Continental Europe.
The Alexander Dennis plant in Falkirk will build 351 of the 432 vehicles which are being ordered.
The investment includes 10 double-decker sleeper coaches for megabus.com in the UK, providing 55 daytime seats and 41 beds at night.
Stagecoach is also buying 10 more coaches for megabus.com services in Britain and 10 for Continental Europe.
And it is investing in more than 380 buses for Stagecoach regional networks in the UK.
The company said all the vehicles would meet European emissions standards, while some would be low carbon hybrid or gas versions.
Stagecoach already has about 180 hybrid electric buses in service in the UK, with nearly 60 more being introduced by the end of March.
Les Warneford, managing director of Stagecoach UK Bus, said the new buses would be "better for the environment and continue our market-leading investment in greener technology".
He added: "The new orders will also see further investment in our budget coach service megabus.com, which now carries more than five million passengers a year in the UK alone."