Small businesses report rise in confidence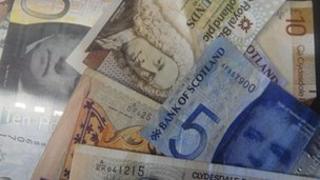 Confidence has risen among Scottish small businesses despite rising costs and weak trading conditions, according to a new survey.
Research by the Federation of Small Businesses suggested more firms planned to invest over the next 12 months.
Companies were also "substantially more confident" in the last quarter of 2012 compared to 2010 and 2011.
This was despite firms reporting rising fuel and utility costs were making it more expensive to run a business.
However, the research suggested that Scottish small business confidence and investment intentions lagged behind the UK average.
The federation's Scottish policy convener, Andy Willox, said: "When it's more expensive to do business, you need to work harder just to stand still. With weak consumer demand putting pressure on turnover, we need firm action on fuel and utility costs.
"For our part, these figures suggest that more firms want to generate more business by investing.
"This is encouraging, as investment spending gets money moving round the economy, fills order books, builds confidence and therefore drives growth."
He added: "Where smaller firms identify growth opportunities, it is vital that lenders look carefully at their plans and at the potential returns. We can't have sound, viable schemes turned down because finance providers won't take calculated risks."