Macdonald Hotels reports rise in sales and profits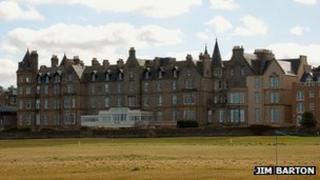 Macdonald Hotels overcame "challenging" economic conditions to record a rise in sales and profits last year.
The company, which runs 45 hotels across the UK, saw turnover rise on a like-for-like basis by 2% to £139.5m in the year to the end of March.
Operating profit before interest climbed by 3% to £13.7m.
Macdonald Hotels chief executive David Guile said the group's strong performance was due to "sheer hard work" by staff.
He commented: "We have continued to invest in our people, our IT and web infrastructure and our hotels.
"We are now seeing the benefits of this strategy, not only in our results, but also in continuing to improve the quality of our customer experience.
"We have achieved these results despite the increasing cost pressures on our business such as utility prices, national minimum wage, food costs and a staggering £360,000 of additional 'tax' on our energy consumption paid to the government in respect of the Carbon Reduction Commitment."
'Positive future'
During the year, Macdonald Hotels invested nearly £8m in hotel refurbishments, central reservations and revenue management systems.
Mr Guile said the group was achieving further growth in the current year, following increased activity in both the commercial and conference sectors.
Macdonald's current debt facilities expire in September 2013 and the group said it was in "advanced and positive discussions" with Lloyds Banking Group over a longer term arrangement.
The company owns more than a dozen hotels and resorts in Scotland, including the Macdonald Aviemore Resort and Cardrona Golf and Spa Hotel in Peebles.
Executive chairman Donald Macdonald said: "Current trading conditions are the most difficult that any of us can remember and we have to assume that this will continue for a number of years."
He added he believed the company had "a very positive future".