Macduff Shellfish buys Dumfries firm Scott Trawlers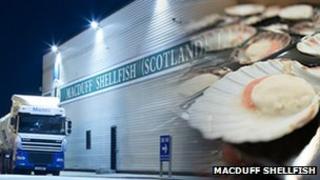 Wild shellfish processor Macduff Shellfish has bought one of the UK's largest scallop fishing fleets.
Macduff, which is based in Mintlaw near Peterhead, acquired Scott Trawlers for an undisclosed sum.
Dumfries-based Scott Trawlers operates five scallop vessels, which account for more than 15% of all UK scallop landings.
The acquisition is part of plans by Macduff to double the size of its business in the next five years.
Macduff, which has an annual turnover of £38m, processes shellfish and exports to Europe and the Far East, as well as supplying the UK market.
In addition to its vessels, Scott Trawlers runs a fleet of refrigerated lorries and a marine engineering business, catering for the manufacturing needs of scallop fishermen.
It employs 50 employees across the three operations, 35 of whom are fishermen.
Macduff Shellfish chairman Euan Beaton said: "Owning an entire fishing fleet is a first for Macduff Shellfish.
"This significant deal enables us to expand our scallop business, allows us to have a full chain of custody from the sea to the customer and consolidates a solid 15-year relationship between the two businesses."