Scottish building firms 'gloomy' for 2013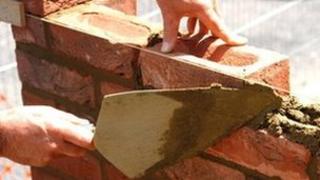 A survey of Scottish construction firms has found after thousands of job losses many predict ongoing decline in 2013.
The quarterly data compiled by the Scottish Building Federation (SBF) suggested 8,000 jobs had been lost in the industry this year.
The SBF said public sector new work and the housebuilding sector had performed particularly badly.
Employers remained gloomy about their prospects with many expecting to cut more jobs.
The federation, which represents 600 firms from sole traders to major contractors, said expectations for publicly funded construction activity were "particularly muted for 2013, with a significant majority of firms expecting new orders to decline across all categories of new public sector work".
SBF chief executive Michael Levack said: "There's strong evidence here to suggest public sector investment in construction projects has fallen back significantly over the past year. What's more, our members expect this trend to continue into 2013.
"By direct comparison, the private sector is generating more new orders than the public sector. But those firms reporting increased new orders from the private sector are still substantially outnumbered by those who have seen private sector orders decline over the past 12 months as well."
Mr Levack called for additional public money committed towards building schemes and announced in the Chancellor's autumn statement to be used to "kick-start stalled projects straight away".
He added: "If this investment only begins to have an impact six months or a year from now, that will be too late for those construction businesses already contemplating bankruptcy this winter."