Scottish renewable power target 'exceeded'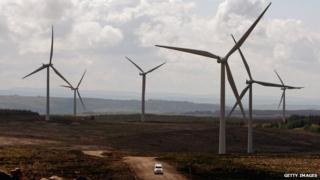 Renewable energy sources in Scotland have passed interim targets for meeting the nation's demand for power, figures have shown.
The data comes from the Department of Energy and Climate Change.
The Whitehall department said wind and hydro power reached 36% of Scotland's electricity consumption last year, passing the 31% target set for 2011.
January to September this year also saw a 15% growth in output of wind, hydro and other renewable sources.
Last year's figures represent nearly 40% of all the UK's renewable output, with more than a quarter of its output exported.
The DECC figures also point to the growth in renewables share compared with other means of generating electricity.
In 2010, the sector produced less than a fifth of the total production, and by last year, that rose to 27%. Only nuclear, with a 33% share, had more, while coal fell from 29% to 21%.
Jenny Hogan, of Scottish Renewables, said: "These figures confirm that Scotland's renewables industry is making a huge impact on how we meet our energy needs.
"Not only is our electricity greener than ever before, it is being generated by a home-grown industry with lots of companies investing in Scotland and supporting thousands of jobs too."
Encouraging progress
Scotland's Energy Minister Fergus Ewing said the data puts Scotland on track to reach its target for renewable power of 50% of the country's power needs by 2015.
"These figures show that renewable energy in Scotland is going from strength to strength, confirming that 2011 was a record year for generation in Scotland and that 2012 looks set to be even better," he said.
With energy consumption figures falling, Sam Gardner, senior climate change policy officer at campaign group WWF Scotland, said: "By combining Scotland's superb renewable energy resource with greater energy efficiency and investment in the grid, Scotland can avoid the need for new fossil fuel power stations.
"Scotland continues to make encouraging progress on renewables and has tripled the amount of electricity it generates from clean green sources since 2000.
"Building a low carbon economy of the future will require an equally ambitious approach to boost the energy efficiency of our buildings and tackle emissions from transport."
Next year will see the shut-down of one of Scotland's big coal-burning plants, at Cockenzie in East Lothian.