Nigg yard owner Global Energy to create 400 new jobs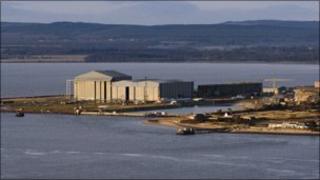 Scottish company Global Energy Group is to create 400 new jobs in the Highlands, it has been announced.
The energy industry service firm, which already employs 800 people at its Nigg fabrication yard in Easter Ross, said it would carry out a Highland-wide recruitment campaign next year.
First Minister Alex Salmond told MSPs that the reindustrialisation of the area was welcome.
The new jobs were announced during First Minister's Questions at Holyrood.
Global took over Nigg last year and, after years of decline, has been putting it back into use as a site for refitting oil and gas rigs and servicing the renewable energy sector.
Mr Salmond said the recruitment drive was great news for the north of Scotland.
He said: "This latest recruitment drive is a testament to the strengths our workforce, Scotland's vibrant energy potential and the ambition of our energy sector."
The first minister added: "Buoyed by growing demand for the manufacture of advanced and highly-specialised technologies across energy sectors, Nigg Energy Park is set to reindustrialise the Cromarty Firth and help strengthen the wider Highland economy.
"Since buying the largely-dormant oil yard just over a year ago, Global Energy has begun a magnificent renaissance at Nigg."
Job opportunities
Global Energy Group chairman Roy MacGregor said hard work had gone into revitalising the yard.
He added: "We hope that over the next few weeks we will have a great response to these new job opportunities and our team are all ready to deal rapidly and efficiently with the applications as they come in."
The new jobs at Nigg and the neighbouring Invergordon Service Base will focus on the oil and gas side of Global Energy's operations.
The company has head offices in Inverness and Aberdeen.
Founded in 2005, Global Energy Group has a worldwide workforce of more than 3,500 people.