Weir acquires US drilling firm Mathena for $240m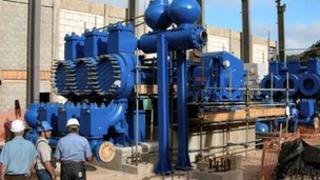 Global engineering company Weir Group has agreed to buy US firm Mathena, strengthening its presence in the American shale gas sector.
Weir will initially pay $240m (£148m) for the firm with a deferred payment of up to $145m (£90m) depending on performance targets.
Oklahoma-based Mathena makes and rents out specialist equipment used in fracking.
Glasgow-based Weir said the deal supported its expansion in this area.
Commenting on the acquisition, Weir chief executive, Keith Cochrane, said: "Mathena is a well-regarded business in the US upstream oil and gas markets, with a strong management team and market share in the pressure control drilling markets.
"This deal is a close strategic fit with our existing pressure control business and gives us a larger suite of products which we can sell to the expanded customer base."
He added: "The business has strong growth potential and increases our exposure to shale oil and gas, markets with attractive long-term structural growth prospects."
Weir has made a number of acquisitions throughout the year to boost its presence in the booming shale oil and gas industry in the US, which now accounts for about a third of the company's revenues.
The takeover of Mathena is expected to be completed by the end of this year.